Introduction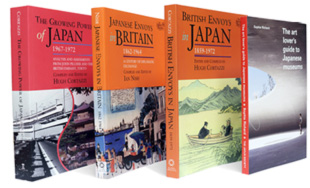 The Japan Society has long engaged in the publication of books furthering the UK-Japan relationship. At the heart of our catalogue is the Biographical Portraits series, nine volumes recording the lives of over 500 men, women and institutions who have played a significant role in the development of UK-Japan relations. This series appears here alongside its sister publications, Japanese Envoys in Britain, British Envoys in Japan and Japan Experiences, and will soon by joined by other recent publications.
The Japan Society E-Library is an ongoing digitisation project which over the next year will encompass material from our historical library, including our series of Proceedings which goes back to 1891, minute books, ephemera, and rare books of historical interest.
If you are already a member of the Japan Society, click here to register for an account. If you are not yet a Japan Society member, please click here to find out more about what we do, and if you are an academic organisation interested in registering for an institutional account, please email membership@japansociety.org.uk.
About the Japan Society
The Japan Society is the leading independent body in the United Kingdom dedicated to the enhancement of the British-Japanese relationship. With a history stretching back to 1891, its members are committed to promoting deep and lasting understanding between our two countries.
The Society's main objectives are:
To promote learning and advance education in the subject of and with regard to Japan.
To promote the study of Japan and its people in all their aspects, traditional and modern, and to make the results of such study more accessible to the general public.
To promote the study of Britain and its culture by Japanese people and to further educational exchanges between Britain and Japan.
The Japan Society has a membership of some 1000 members both individual and corporate, of whom 45% are Japanese. Its varied programme provides opportunities for members and others interested in Japan to meet and exchange ideas and experience. Its work with schools throughout the UK and small grants scheme to support local projects both serve to encourage and deepen understanding of Japan.
We are extremely grateful to the J Paul Getty Jnr Charitable Trust for its generous donation towards the cost of this ongoing digitisation project.