Biographical Portraits Volume VII
Edited by:Cortazzi, Hugh
Publisher:Global Oriental
First published:2010
This edition:2010
ISBN:978-1-906876-26-5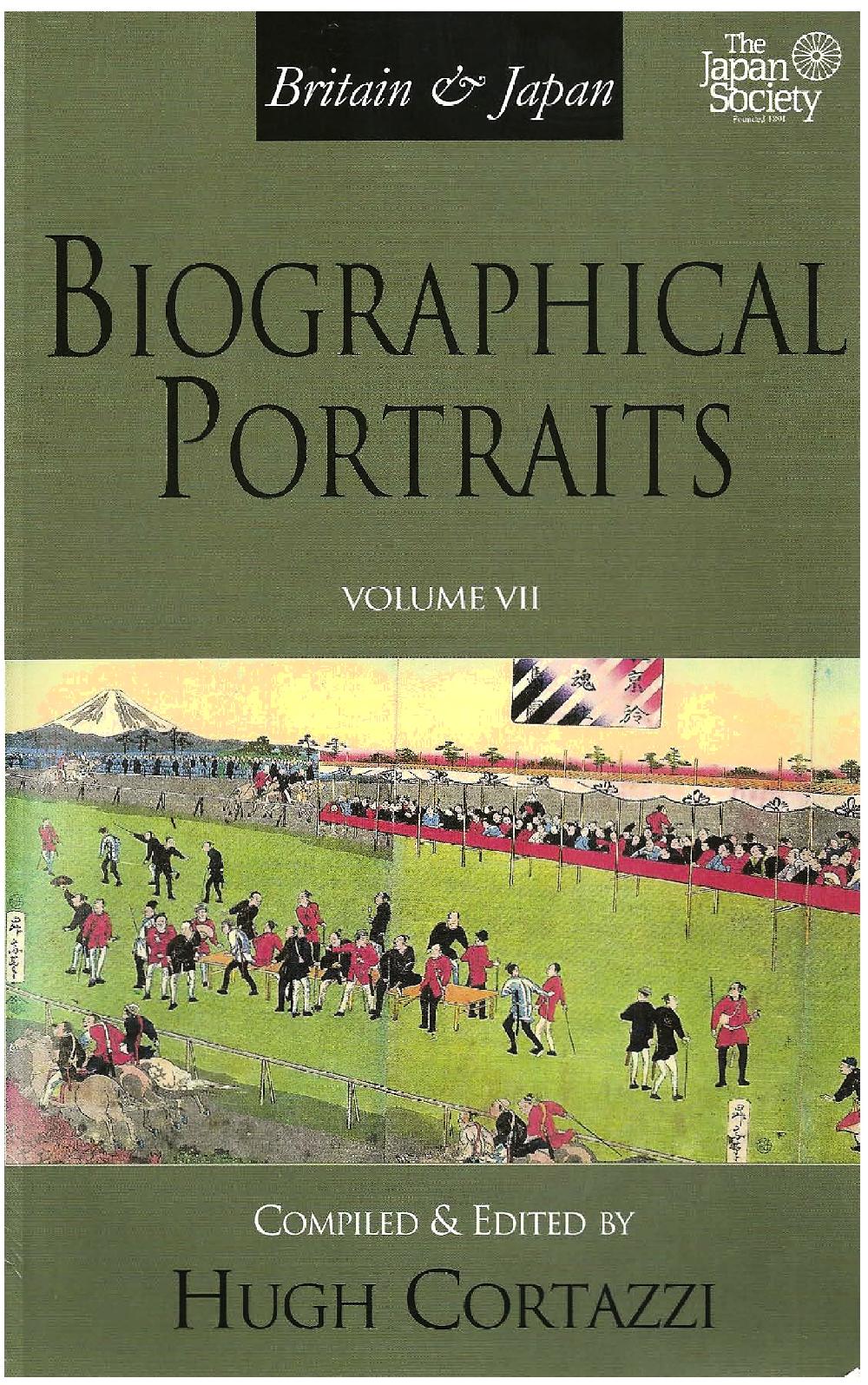 Description
This book forms part of a series recording the lives of men, women and institutions who have played a significant role in the development of UK-Japan relations. The current volume, which contains 47 'portraits', contributes further to the Japan Society's collection of individual memoirs. When read together these give a many-faceted picture of modern history, shedding light on controversial issues, illuminating past successes and failures, and providing a valuable point of reference for researchers and historians.
Structured thematically in ten parts – Meiji Era Leaders; British Politicians; British Officials; Scholars, Writers and Journalists; Scientists; Missionaries; Art; Recreations; Charitable Work; and A Memoir – the highlights in this volume include 'Nakai Hiromu (1838-94): a Forgotten Hero of Anglo-Japanese Relations', 'Sir Edward Reed (1830-1906): Naval Architect', 'Carmen Blacker (1924-2009) and the Study of Japanese Religion', 'Alfred Harmsworth, 1st Viscount Northcliffe (1865-1922): An Uncomfortable Visitor to Japan', 'Gintaro (1875-1952): Juggler and Top Spinner', 'Philip Malins MBE, MC (1919- ): Prisoners of War and Reconciliation with Japan', and 'A Disorderly Upside-down Affair (Tokyo December 1941)'.
Author: Cortazzi, Hugh
Hugh Cortazzi's Introduction to Biographical Portraits Volume VII.
Author: Cobbing, Andrew
This essay charts the controversial life and political career of Inoue Kaoru (1836-1915) of the Chōshū Five and one of the most powerful figures of the Meiji period. A man who epitomized the world of the oligarchs; the immense power wielded by a select few.
Author: Cobbing, Andrew
This biography offers an account of the life of Yamao Yōzō (1937-1917), one of the Chōshū Five and a pioneer of engineering and education in the Meiji period.
Author: Robinson, Eleanor
Nakai Hiromu (1838-94) went by many names, and played an important, but largely forgotten, part in Anglo-Japanese relations. This essay details his career and attitudes towards both his own culture and British culture.
Author: Cortazzi, Hugh
Sir Edward James Reed (1830-1906) was a leading naval architect who built ships for the Japanese Imperial Navy in the Meiji period and became an advocate for treaty revision, clashing with Sir Harry Parkes. This essay details his illustrious but flawed career and role in Anglo-Japanese relations.
Author: Nish, Ian
This essay recounts Lord Rosebery's (1847-1929) role in Anglo-Japanese relations in the late 1800s to the early 1900s, including ultimately futile diplomatic efforts to bring about the end of the Sino-Japanese war.
Author: Best, Antony
Austin (1863-1937) and Neville Chamberlain (1869-1940) played an important role in British public life, and particularly in the formation of foreign policy. This essay investigates Japanese perceptions and interpretations of their careers.
Author: Barr, Dugald
This essay provides an account of Julian Ridsdale's (1915-2004) interest in Japan and politics, and how these two came together in his long service to Anglo-Japanese Parliamentary relations.
Author: Cortazzi, Hugh
Sir Francis Ottiwell Adams (1826-89) was Secretary of the Legation in Edo from 1868 to 1872. This essay shows how his career in the legation was an important one in the history of modern Japan, having occurred at a time of much social upheaval.
Author: Nish, Ian
Cecil Rice (1861-1918) played an important role in the Russo-Japanese War and subsequently served as Ambassador in Washington during the First World War. This chapter charts his diplomatic career through times of peace and of war, outlining his affection for and dealings with Japan.
Author: Steeds, David
Intertwined throughout Miles Lampson's (1880-1964) diplomatic career were dealings with and a genuine affection for Japan. This biography traces those dealings, beginning with his involvement in the 1906 Garter Mission, and provides a portrait of this British diplomatic figure.
Author: Weste, John
Malcolm MacDonald (1901-81) presided over an era of Anglo-Japanese relations during which he was forced to consider Japan's position post Second World War and its impact upon the British Empire. This essay acknowledges his relative ambivelance towards Japan, but also his key role in diplomacy with the country.
Author: Lowe, Peter
Robert Scott's (1905-82) career goes some way to illustrate Japan's impact on the world in the 20th Century, particularly with regard to British and American foreign policy in South East Asia following the Second World War.
Author: Kornicki, Peter
General Hamilton's (1853-1947) account of the Russo-Japanese war provides a fascinating insight into Britain's perspective on the conflict and on Japan's military capabilities in general.
Author: Chapman, John W.M.
Sir Thomas Henry Martyn Jerram's (1858-1933) proximity to the China Station shortly before the outbreak of the First World War marks him out as a significant figure in Anglo-Japanese relations.
Author: Nish, Ian
William Beasley (1919-2006) was a pioneer in introducing Japanese history into British academic circles as a teacher, researcher and author. This essay recounts his career in academia.
Author: Kornicki, Peter
Carmen Blacker (1924-2009) became one of Britain's most original and perceptive scholars of Japan, and this account charts the development of her love for the country and the impact this had upon her choice and pursuit of a career in academia.
Author: Brown, Yu-Ying
Kenneth Gardner (1924-95) held senior posts in the British Museum and British Library, and was instrumental in these posts in promoting Japanese culture and Anglo-Japanese relations. This essay charts his career and significance within his field and beyond, including his war service as part of Translators V.
Author: Maclean, Nicolas
This essay provides an account of sociologist Keith Thurley's (1931-92) lifelong commitment to industrial cooperation between Europe and Asia, and to the study of contemporary Japan.
Author: Dukore, Bernard F.
This essay presents an article by Shaw about his time in Japan, reproduced with permission by the George Bernard Shaw Estate, as well as a brief biographical chronology in order to put the article in perspective. Originally published in Asian Affairs Vol. XIX Part I February 1988.
Author: Miura Toshihiko
Bertrand Russell had a brief but complicated relationship with Japan. This account provides a chronology of his visit as well as the Japanese reaction to his ideas and character.
Author: Burleigh, David
This potrait of poet and playwrite James Cousins (1873-1956) considers his little known, but nonetheless well-documented, visit to Japan.
Author: Turner, Louis
This portrait looks at doyen historian Arnold Toynbee's (1889-1975) cult status in Japan, detailing his three visits to the country.
Author: Norimasa Morita
In his brief life and literary career Kōri Torahiko (1890-1924) had many dealings with Britain and its literary scene. This portrait charts his interactions as a Japanese writer with the culture of Britain and its literature.
Author: Best, Antony
Journalist John O. P. Bland (1863-1945) is more commonly associated with China than Japan, although his 'treaty port mentality' means his career sheds light on the British trading communities views of Japan.
Author: O'Connor, Peter
This essay provides an account of how newspaper proprietor Alfred Harmsworth (1865-1922), who visited Japan on a number of occasions shaped British suspicions and fears over Japan's intentions in Asia.
Author: Kabrna, Paul
Cargill Knott (1856-1922) was among a number of foreign specialists invited to Japan by the Meiji Government. During his time in the country, he conducted extensive research in the field of seismology, undertaking a magnetic survey of Japan.
Author: Kumazawa Eriko
This portrait explores Edward Kinch's (1848-1920) contribution to the development of agricultural chemistry in Japan during the Meiji era, including the first analytical study of soil, fertilizer and crops in Japan. After leaving Japan, Kinch was influential in introducing a number of Japanese foods to the rest of the world.
Author: Freeth, Rob
This essay recounts Florence Freeth's (1871-1946) pioneering missionary work in Kyushu, where she established a number of kindergartens and nursaries.
Author: Ion, Hamish
This essay details the two halves of Walter Dening's (1846-1913) career in Japan, first as a missionary with the CMS, and later as an agnostic teacher and journalist, when he became one of the best informed Western authorities on Meiji religious and literary thought.
Author: Ion, Hamish
Arthur Lloyd (1852-1911) is best known as a missionary, teacher, author and pioneer in the study of Japanese Buddhism. He is also regarded - along with David Murray and Guido Verbeck - as one of.the pioneers of Japan's modern educational system.
Author: Horner, Libby
This portrait of Frank Brangwyn (1867-1956) details his artistic career and interactions with the Japan Society as well as Japanese art and culture as a whole.
Author: Horner, Libby
This essay details Urushiba Mokuchū's (1889-1953) life and career in Britain as a print artist, including his close collaboration with Frank Brangwyn.
Author: Ruxton, Ian
Tatsuno Kingo (1854-1919) was arguably the leading Japanese architect of his day, and master-minded much of the Western-style architecture of Meiji Japan. This essay examines his general architectural career, as well as his dealings with Britain and its influence upon his work.
Author: Basham, Anna
Wells Coates (1895-1958) was an eminent figure in the British Modern Movement, and an avant-garde architect-designer who made frequent reference to his upbringing in Japan.
Author: Jackson, Neil
Thomas James Waters (1842-98) was the first Professor of Architecture in Japan. This portrait provides an analysis of his personal evangelical convictions and his impact on Japan as an architect-engineer during the early Meiji period.
Author: Basham, Anna
This essay details Britain's changing attitudes towards Japanese Architecture between 1862 and 1919, including thoughts from Rutherford Alcock, James Jackson Jarves, E.W. Godwin, Josiah Conder, Christopher Dresser, Edward S. Morse, Charles Rennie Mackintosh and William Morris.
Author: Basham, Anna

Author: Raggett, Jill
This portait outlines the major figures of Japanese garden design in Britain, their separate contributions to the medium, and their impact upon the understanding of other aspects of Japanese culture in Britain. Includes thoughts from Eida Saburo, Suzuki Jiju, Honda Taki, and Kusumoto Seyemon.
Author: James, Prue
This essay details Isaac Bunting's (1850-1936) trade in lily bulbs in Japan, the growth and decline of the business, and the work and character of Bunting himself.
Author: Garner, Shaun
Sir Merton (1835-1921) and Lady Russell-Cotes (1835-1920) were passionate about Japan, bringing over a hundred cases of souvenirs back to England following their first visit to the country. This essay details their passion as it manifested itself in collecting Japanese objects and promoting Japanese culture.
Author: Koyama Noboru
Although Arthur Morrison (1863-1945) was primarily a writer and novelist, his collection of Japanese art would go on to form one of the core collections of Japanese prints and paintings at the British Museum. This essay details his career as a writer and connoisseur of Japanese art.
Author: Buckley, Roger
The British connection was critical to the development of Western-style horse racing in Japan from the 1860s onwards; what began as little more than an amateurish diversion for the expatriate communities of the treaty ports has evolved into a vast multi-billion Yen enterprise.
Author: Bleakley, Derek
Football was introduced to Japan by a British Naval Mission in 1873. This portrait provides an account of the rise of football in Japan, and the key organisations and individuals involved in its subsequent links with British football.
Author: Brunning, Peter
This portrait describes the fascinating career of the juggler and top spinner Mizuhara Gintarō (1875-1952) in Britain and other countries. He was notably successful in presenting Japanese performance practices to British audiences over a long period of time.
Author: Lockyer, Angus
Arthur Groom (1846-1918) is widely consdiered the father of Japanese golf, and this portrait examines his arguably accidental part in the development of modern Japan during the Meiji period.
Author: Daniels, Gordon
Sister Ethel McCaul was one of only two specialist nurses to accompany surgeon Frederick Treves to the South African War. Following this experience she became an articulate critic of military medical reform, and saw Japanese systems as a blueprint for change. Experience as a nurse in Meiji era Japan allowed her to reveal aspects of the Japanese system that were in advance of Imperial Britain, and this portrait charts her role in advocating links with Edwardian Britain and Meiji era Japan.
Author: Purvis, Phillida
This portrait details Philip Malins' (1919-) military career and key role of in postwar reconciliation between Britain and Japan.
Author: Busk, Douglas
This fascinating first-hand account of the impact of the declaration of war by Japan upon Britain in 1941 provides reflections upon the diplomatic and personal situaions of the staff engaged in Anglo-Japanese relations at the time.