Biographical Portraits Volume V
Edited by:Cortazzi, Hugh
Publisher:Global Oriental
First published:2005
This edition:2005
ISBN:1-901903-48-6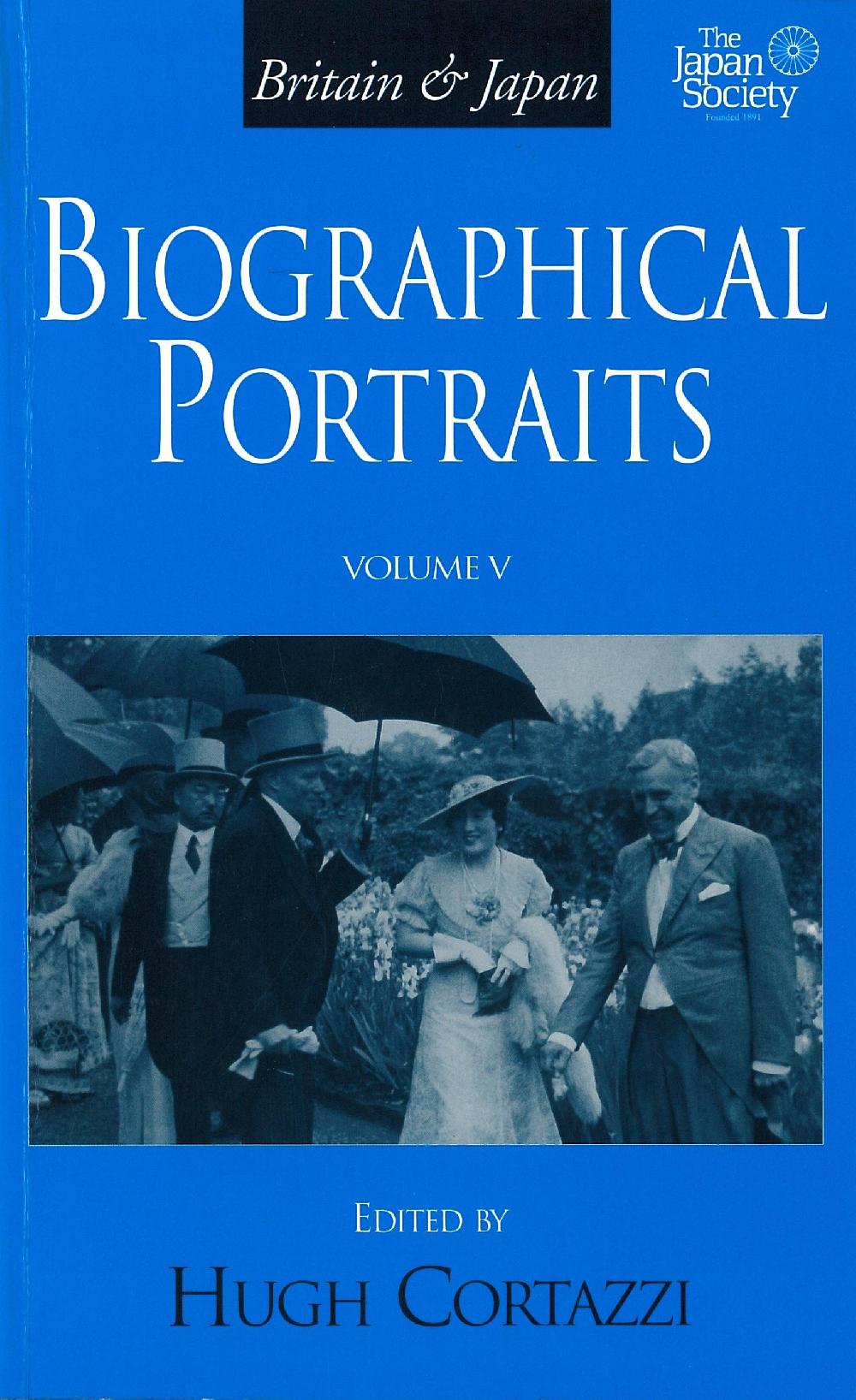 Description
This book forms part of a series recording the lives of men, women and institutions who have played a significant role in the development of UK-Japan relations. Volume V, which contains 43 'portraits', contributes further to the Japan Society's collection of individual memoirs. When read together these give a many-faceted picture of modern history, shedding light on controversial issues, illuminating past successes and failures, and providing a valuable point of reference for researchers and historians.
Structured thematically in six parts – Japan Society and Imperial Personalities; Politicians and Diplomats; Naval Officers; Businessmen; Poets, Scholars and Journalists; and Long-term Residents in Japan, Judo Pioneers and a Philanthropist – the highlights in this volume include 'Crown Prince Akihito in Britain', 'Ozaki Yukio (1859-1954) and Britain', 'Captain Oswald Tuck RN (1876-1950) and the Bedford Japanese School', 'Enright's Japan, 'John Corner, 1906-96: Controversial Biologist and Friend of the Shōwa Emperor', 'Three Great Japanese Translators of Shakespeare', 'Pioneers in Bringing Jujutsu (Jūdō) to Britain: Edward William Barton Wright, Tani Yukio, Ernest John Harrison', and 'Yoshimoto Tadasu, 1878-1973: 'Father of the Blind in Japan''.
Author: Cortazzi, Hugh
Hugh Cortazzi's Introduction to Biographical Portraits Volume V.
Author: Rawlins, John
This portrait details William Anderson's (1842-1900) distinguished medical career in Japan and Britain, as well as his scholarly efforts as a collector and connoisseur of Japanese art.
Author: Numata Hideko
This essay recounts Marcus Bourne Huish's (1843-1921) important role in the development of Anglo-Japanese relations, especially through his efforts to introduce Japanese art to British people.
Author: Britton, Dorothy
This portrait displays the life and political career of Prince and Princess Chichibu both in Japan and Britain, as well as their role in the attempted coups d'état of 1932.
Author: Cortazzi, Hugh
This portrait considers the most significant of Crown Prince Akihito's several visits to Britain, made during the Coronation of Elizabeth II.
Author: Cobbing, Andrew
This essay details the diplomatic career of Terashima Munenori (1832-1993) in early Meiji Japan, and his mastery of the diplomatic process as it related to Anglo-Japanese relations.
Author: Ruxton, Ian
Despite his being perhaps lesser known than other Meiji era statesmen this essay makes the case of Suematsu Kenchō's (1855-1920) significant contributions in many areas of Japanese politics.
Author: Koyama Noboru
This portrait considers how Kikuchi Dairoku's (1855-1917) exposure to England and his education there meant that his own career anticipated the development of Japan at the end of the nineteenth and beginning of the twentieth centuries.
Author: Hara Fujiko
Ozaki Yukio (1859-1954) is remarkable in his time for a commitment to liberalism and equal rights. This essay charts his engagement with British ideas of government, his long term as mayor of Tokyo and his marriage to Yei Theodora.
Author: Nish, Ian
This portrait considers Lord Curzon's (1859-1925) two distinct phases of contact with Japan: first as the Foreign Office spokesman in the House of Commons, then later as Foreign Secretary.
Author: Best, Antony
This essay discusses the involvement of Lord Hankey and R.A. Butler in the 'appeasement' of Japan and their attempts to bring about a rapprochement and stem the descent towards war.
Author: Nish, Ian
This portrait considers the diplomatic career of Komura Jūtarō as foreign minister and later ambassador to Britain.
Author: Nish, Ian
Inouye Katsunosuke was responsible for steering Anglo-Japanese (1861-1929) relations at a very difficult period in world history during the First World War. This essay details how he coped in a way that attracted great respect.
Author: Nish, Ian
Chinda Sutemi (1857-1929) presided over a period in postwar Anglo-Japanese relations where he was responsible for diplomacy at critical junctures. This essay charts his career through the London Embassy, at the Paris Peace Conference and up to Japan's exit from the League of Nations.
Author: Gotō-Shibata, Harumi
This portrait provides an account and assessment of Hayashi Gonsuke (1860-1939) as Japanese Ambassador to Britain, and his efforts to keep relations between the two nations as amicable as possible.
Author: Kuramatsu, Tadashi
This essay recounts how Matsui Keishirō (1868-1946), in his many roles, including as Ambassador in London, was involved at numerous important turning points in the history of Japanese external relations.
Author: Cortazzi, Hugh
This essay uses the loss of HMS Rattler off Cape Soya (Hokkaido) to underline the inadequacy of Admiralty charts of Japanese coastal waters and the difficulty of maneuvering wooden ships in adverse weather conditions. It also displays the willingness of the Japanese to assist the stricken sailors.
Author: Chapman, John W.M.
This portrait consdiers how Admiral Sir John Fisher's (1841-1920) role in Anglo-Japanese naval relations played into a larger theatre of war and diplomacy in Europe and the far East.
Author: Chapman, John W.M.
This essay recounts Captain W.C. Pakenham RN's (1861-1933) role in supporting Japanese naval efforts during the Russo-Japanese war.
Author: Jarvis, Suzette
Captain Oswald Tuck RN played a very significant role in the teaching of Japanese to those involved in the Japanese Section of Bletchley Park during the Second World War. This essay charts his naval and teaching career, especially at the Bedford Japanese School.
Author: Matsumura, Jerry K.
This portrait considers Takaki Kanehiro's (1849-1920) career, character and contributions as Surgeon General to the Japanese Imperial Navy. Of particular note is his education in, and subsequent dealings with, Britain throughout his life.
Author: Oba Sadao
Mitsui & Co. Ltd was given the responsibility of managing the collection and export of rice to China and Europe. This essay details its growth and success in the City of London.
Author: Itoh Keiko
The history of the Yokohama Specie Bank in London provides a useful window into Japan's pre-war efforts to establish herself as a first-rate modernized empire. This essay considers how the bank reflects Japan's bold strides into the financial centre of the world, London.
Author: Takeno Hiroyuki
This essay considers two important managers of the Nippon Yūsen Kaisha, and how they devoted their lives to developing Japanese nautical facilities and education for the merchant marine and navy.
Author: Green, Edwin
This essay details the way in which HSBC was a pioneer and prototype of banking and international finance in nineteenth-century Japan.
Author: Hughes, George
The poet Robert Nichols (1893-1944) provides an example of extreme culture shock suffered by a British visitor to Japan, and this portrait charts his poetic career and interactions with Japan as a foreign teacher at Tokyo University.
Author: Hatcher, John
Deeply attached to English life as he was, the poet Ralph Hodgson (1871-1962) uprooted himself and spent twelve years in Japan. This essay considers his profound love for England twinned with a truly internationally-minded outlook.
Author: Fraser, Eileen
This essay consdiers G.S. Fraser's (1915-80) life and in particular his time as a poet and teacher in Japan.
Author: Greenwood, Russell
This creative portrait details the experience and framing of Japan in the mind and writing of D.J. Enright during the early fifties.
Author: Norimasa Morita
This essay provides an account of how Nishiwaki Junzaburō's (1894-1982) poems and writings on modernist and surrealist poetry transformed the poetic landscape in Japan.
Author: Nish, Ian
A portrait of Richard Storry's (1913-82) life-long affair with Japan as a teacher, writer and researcher.
Author: Kornicki, Peter
The subject of this portrait is the remarkable life and career of Eric Bertrand Ceadel (1921-79), founding father of Japanese studies at Cambridge University.
Author: Purvis, Phillida
This portrait details the life and career of scholar Louis Allen (1922-91), especially his wartime service and postwar reconciliation efforts.
Author: Blacker, Carmen
John Corner is offten described as a colourful and controversial biologist, and this portrait considers his career and contributions to botany.
Author: Shaigiya-Abdelsamad, Yahya
The subject of this essay is Basil William Robinson, who became an expert on Japanese swords and helped to inspire interest in the Japanese sword and associated art and crafts.
Author: Milward, Peter
This portrait considers the contribution of Japanese translators of Shakespeare (Fukuda Tsuneari, Odajima Yushi and Anzai Tetsuo) to its appreciation in Japan, and to Shakespearian scholarship in Japan and beyond.
Author: O'Connor, Peter
This essay details the journalistic career and media entrepreneurialism within Japan of John Russell Kennedy.
Author: Buckley, Roger
This portrait considers the journalistic and writing career of Hessell Tiltman (1897-1976) on Japan before, during, and after the Second World War.
Author: Yokoyama Manabu
Frank Hawley (1906-61) was the first post-war correspondent of The Times in Japan. He had already spent ten years in Japan as a young scholar, and a renowned collector of rare Japanese editions. This essay considers his journalistic and scholarly career.
Author: Hotta-Lister, Ayako
Even though journalist Hasegawa Nyozekan's (1875-1969) periods of residence in Britain were short, he wrote about them extensively in the popular press. This essay details his life, and journalistic and philosophical career.
Author: Gornall, Martin
This portrait considers the complex figure of contradictions and extremes that is Dr Thomas Baty (1869-1954), the legal adviser to the Japanese Foreign Ministry from 1916-41.
Author: Ion, Hamish
This essay considers how the missionary career of Samuel Heaslett (1875-1947) - his experiences and struggles - mirrors the general decline of British influence in Japan.
Author: Bowen, Richard
This portrait considers three of the key pioneers in bringing Jūjutsu (Jūdō) from Japan to Britain in the late 1800s and early 1900s, and the measure of popularity the sport gained.
Author: Koyama Noboru
This portrait considers the unique and outstanding contribution of businessman Yoshimoto Tadasu (1878-1973) to the welfare of the blind in Japan
Author: Harrop, Len

Author: Wilcox, Geraldine

Author: Purvis, Phillida

Author: Satow, Ernest