Biographical Portraits Volume IV
Edited by:Cortazzi, Hugh
Publisher:Japan Library
First published:2002
This edition:2002
ISBN:1-903350-14-X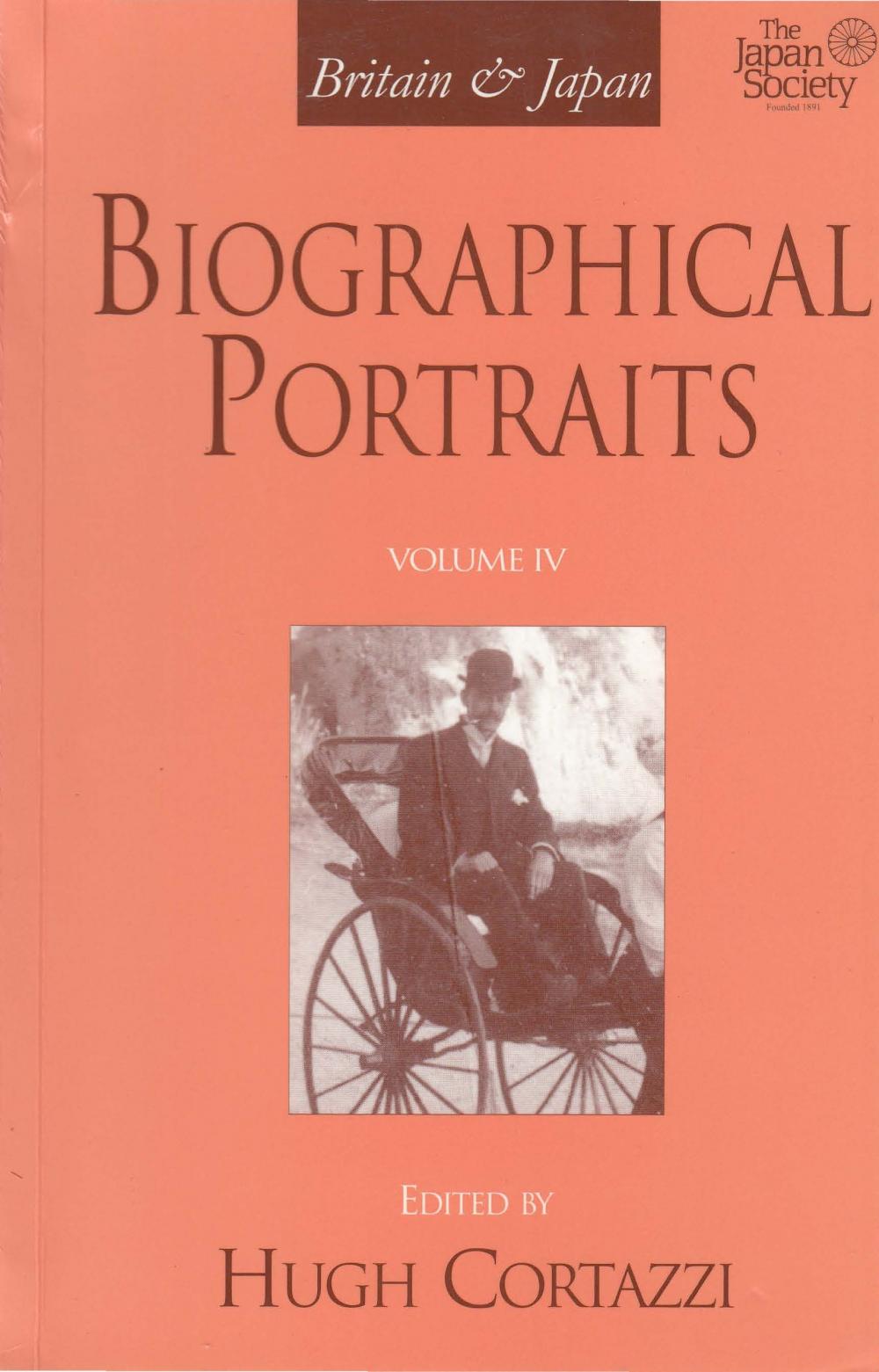 Description
This book forms part of a series recording the lives of men, women and institutions who have played a significant role in the development of UK-Japan relations. The current volume, which contains 34 'portraits', contributes further to the Japan Society's collection of individual memoirs. When read together these give a many-faceted picture of modern history, shedding light on controversial issues, illuminating past successes and failures, and providing a valuable point of reference for researchers and historians.
Structured thematically in six parts – Diplomats; Businessmen; Engineers & Teachers in Meiji Japan; Scholars & Writers; Photographers, Judo Masters & Journalists; and An Aviator & Two Themes – the highlights in this volume include 'Mori Arinori, 1847-89: from Diplomat to Statesman', 'Sir Ernest Satow (1843-1929) in Tokyo, 1895-1900', 'Peter Hewitt, 1920-82', 'William Empson, Poet and Writer, 1906-84: Japan 1931-34', 'Ivan Morris, 1925-77', 'Koizumi Gunji, 1885-1965: Judo Master', 'Freda Utley, 1899-1978: Crusader for Truth, Freedom and Justice', and 'Three Meiji Marriages between Japanese Men and English Women'.
Author: Cortazzi, Hugh
Hugh Cortazzi's Introduction to Biographical Portraits Volume IV.
Author: Cortazzi, Hugh

Author: Cobbing, Andrew
This portrait charts the political career of Mori Arinori (1847-89), a Meiji statesman whose time in Britain played a significant role in his move from liberalism to conservatism.
Author: Nish, Ian
Since his only overseas postings were in Britain, Katō Takaaki (1860-1929) occupies a special place in the diplomacy of Anglo-Japanese relations. This essay documents his remarkable record as diplomat and foreign minister.
Author: Cortazzi, Hugh
This portrait considers the diplomatic career of Sir Francis Plunkett (1835-1907), British Minister at Tokyo from 1884-87, particularly in relation to the attempted revision of the 'unequal treaties'.
Author: Cortazzi, Hugh
Hugh Fraser (1837-1894) presided over one of the most significant developments in Western relations with Japan, the replacement of the 'unequal' treaty originally signed in 1858. This essay surveys his involvement with the Japanese political scene.
Author: Ruxton, Ian
Sir Ernest Satow (1843-1929) served as head of the British Mission in Japan from 1895 to 1900, and this essay uses his diaries to arrive at an understanding of his chief concerns during his time in Tokyo.
Author: Lowe, Peter
Sir William Conyngham Greene (1854-1934) assumed his diplomatic posts in Pretoria and later Japan at times of accelerating tension and turbulence in the and late 19th early 20th centuries. This essay charts his career through both of these times.
Author: Gotō-Shibata, Harumi
Sir John Tilley (1869-1951) was ambassador in Tokyo from 1926-31, and this essay covers his time in office and limited achievements.
Author: Nish, Ian
Rather than assessing Sir Francis Lindley (1872-1950) as a diplomat, this portrait provides an assessment of his character through the lens of his second term in Japan and as chairman of the Council of the Japan Society of London
Author: Best, Anthony
The period in which Sir Robert Clive (1877-1948) was Ambassador to Japan (1934-37) has been the subject of much study, but the man himself remains a mystery. This essay contends that this was because there was little friction between the Embassy and London despite this being a particularly trying time.
Author: Hoare, James Edward
This portrait details William Keswick's (1835-1912) impact upon trade between Britain and Japan as part of his long involvement in East Asian trade from the mid 19th to early 20th century.
Author: Davies, Peter N.
This essay charts the establishment, growth and successes in Japan of Cornes and Company through its founder, Frederick Cornes (1837-1927).
Author: Bleasdale, Charlotte
This essay charts the Japan career of John Samuel Swire (1825-98) ('the Father of Shipping Conferences') and the establishment, growth and success in Japan of the trading and shipping company Butterfield & Swire.
Author: Ashmore, Sonia
Lasenby Liberty (1843-1917) presided over his company at a time when Japanese luxury goods were hugely popular in Britain. This essay considers Liberty in relation to japonsime, as well as his visits to Japan to oversee business.
Author: Baker-Bates, Merrick
This portrait considers Peter Hewett's (1920-82) major contribution to the post-war growth inAnglo-Japanese trade.
Author: Ruxton, Ian
William Edward Ayrton (1847-1908) was a British physicist and electrical engineer of considerable verve and distinction, becoming the first professor of Electrical Engineering in Japan. This portrait details his highly successful career in Japan's educational institutions.
Author: Checkland, Olive
This essay considers the little-known W.K. Burton's (1856-99) outstanding contribution to the municipal infrastructure of Meiji Japan.
Author: Nish, Ian
The subject of this portrait is Henry Faulds' (1834-1930) pioneering medical and missionary work in Japan, as well as his abiding affection for the country and its people.
Author: Higuchi Jirō
This essay details Henry Spencer Palmer's (1838-1893) contributions to Meiji Japan, in particular his construction of waterworks and his letters to the Times in support of treaty revision between Japan and Britain.
Author: Ohta Akiko
This portrait details the significance of Nakamura Masanao's (1832-91) encounter with Victorian Britain and his subsequent translation into Japanese of Samuel Smiles' Self Help.
Author: Blacker, Carmen
Sir Edwin Arnold's (1832-1904) time in Japan can be described as nothing less than a love-affair. This portrait considers the impact of Japan upon his writing and poetic career, as well as the impact Arnold had on the understanding of Japan in Britain as he sought to promote and explain Japanese culture.
Author: Smith, Richard C., and Imura, Motomichi
The subject of this portait is Harlod E. Palmer (1877-1949), 'Linguistic Advisor' to the Ministry of Education in Japan, and his outstanding contribution to teaching English as a foreign language as well as the establishment of the Institute for Research in English Teaching.
Author: Haffenden, John
This portrait details the colourful teaching career of the great literary scholar and critic William Empson (1906-84) in Japan, and provides a fascinating insight into the life and attitudes of an eccentric foreigner in an unfamiliar and increasingly threatening culture.
Author: Cummins, James
This essay charts Charles Boxer's (1904-2000) abiding love for Japan throughout the Second World War and his internment as a POW, his position as chair of Portugese studies at London University, and his authorship of The Christian Century in Japan.
Author: Albery, Nobuko
This portrait offers an intimate account of the life of the remarkably private Ivan Morris (1925-77) - scholar, teacher, writer and translator.
Author: Dobson, Sebastian
Frederick William Sutton 1832-83 produced some important early photographs documenting Japan in the final years of the shogunate. This essay uses more recent discoveries to chart his life in as an amateur photographer in the Royal Navy.
Author: Bennett, Terry
This essay considers the photographic career of 'camera artist' Henry George Ponting (1870-1935), arguably the best British photographer to have worked in Japan, especially as it relates to his photographs of Mt. Fuji and other places and people in Japan.
Author: Bowen, Richard
Koizumi Gunji (1885-1965) played an important role in the spread and practise of judo in Britain. This essay details his long journey across the world to America, and then back to Britain as well as his importance as a practitioner of judo.
Author: Dunne, Anthony, and Bowen, Richard
This portrait sketches the life, attitude and career of the renowned judo practitioner Trevor Pryce Leggett (1914-2000).
Author: O'Connor, Peter
This essay considers three editors of the Japan Chronicle, among them two of the most perceptive writers on Japan anywhere, covering the period from 1891 to 1940.
Author: O'Connor, Peter
Timothy Conroy (1883-1935) had a high opinion of his knowledge pertaining to Imperial Japan, one which was not shared widely other than in Fleet Street. However, the publication of his book The Menace of Japan in 1933 coincided with the explosion of Japanese military activity in China, a fact that led considerable credibility to his writings.
Author: Farnie, Douglas
This portrait covers the life and intellectual career of Freda Utley, aetheist, idealist, and writer, particularly as it related to Japan as an emerging power.
Author: Best, Antony
Initially an ambassador for British aviation and friend of Japan, Lord Sempill (1893-1965) ended his career in disgrace having received payments for providing Japan with information during the Second World War.
Author: Koyama Noboru
This essay provides an assessment of Anglo-Japanese relations in the Meiji era through the lens of cross-cultural marriages between Japanese men and British women, and the effect of treaty revision on these marriages.
Author: Herries, Amanda
This portrait considers the significance of two nineteenth-century plant collectors in Japan, Robert Fortune and John Gould Veitch.