Biographical Portraits Volume III
Edited by:Hoare, James edward
Publisher:Japan Library
First published:1999
This edition:1999
ISBN:1-873410-89-1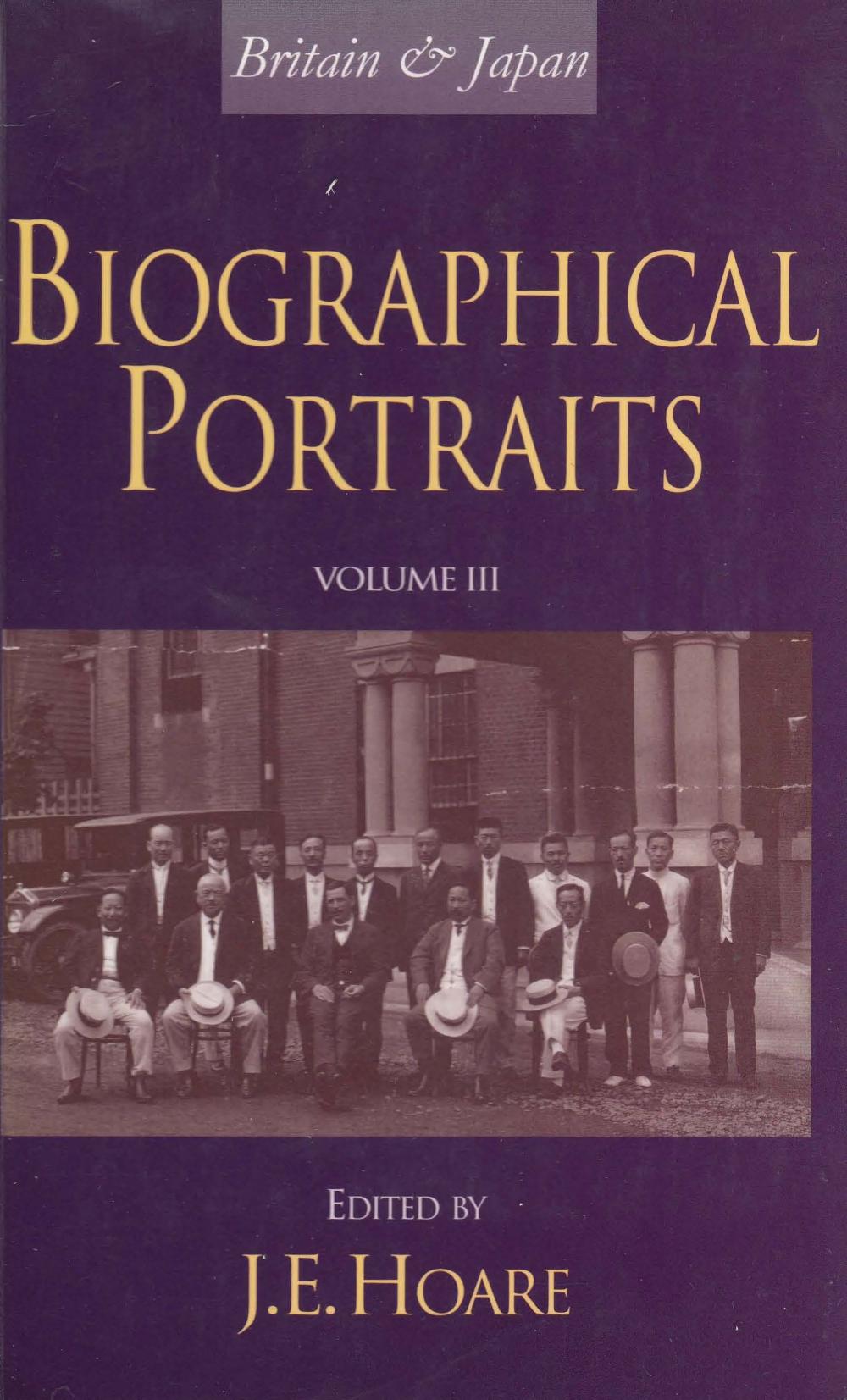 Description
This book forms part of a series recording the lives of men, women and institutions who have played a significant role in the development of UK-Japan relations. The current volume, which contains 27 'portraits', contributes further to the Japan Society's collection of individual memoirs. When read together these give a many-faceted picture of modern history, shedding light on controversial issues, illuminating past successes and failures, and providing a valuable point of reference for researchers and historians.
The highlights in this volume include 'Captain Broughton, HMS Providence (and her tender) and Japan 1794-98', 'Thomas Wright Blakiston (1832-91)', 'Kawanabe Kyōsai (1832-89), the Painter, and the British', 'Natsume Sōseki and the Pre-Raphaelites - The depiction of Ophelia in Sōseki's the Three-Cornered World', 'Ivan Morris, 1925-77', 'Takayuki Eguchi', 'John Morris, George Orwell, the BBC and Wartime Japan', and 'Ariyoshi Yoshiya KBE (Hon) (1901-82)'.
Author: Thorne, Ben
Ben Thorne's Preface to Biographical Portraits Volume III.
Author: Hoare, James Edward
James Edward Hoare's Introduction to Biographical Portraits Volume III.
Author: Hoare, James Edward
This portrait details the sailing and surveying exports of Captain William Broughton in the Pacific and North East Asia.
Author: Cobbing, Andrew
Itō Hirobumi (1841-1909) was Japan's first cabinet prime minister, and this essay asseses the influence of his time as a student in Britain on his career in Imperial Japan.
Author: Koyama Noburu
This portrait discusses James Summers' (1828-91) contributions to the teaching of English Literature in Japan, along with a discussion of his work in relation to the Taisei Shimbun - one of the first Japanese language newspapers published outside of Japan.
Author: Tamaki Norio
A writer, journalist and businessman, Fukuzawa Yukichi (1835-1901) made a significant contribution to Meiji Japan, and a personal fortune in the process.
Author: Cortazzi, Hugh
Thomas Wright Blakiston (1832-91), explorer, engineer and ornithologist, is best known for his discovery of 'Blackiston's Line' a zoogeographical boundary along the Tsugaru Strait.
Author: Kornicki, Peter
This essay provides a re-assessment of 'forgotten figure' Frederick Victor Dickins' (1838-1915) career in Japan as a scholar, lawyer and contributor to Japanese Studies.
Author: Checkland, Olive
Though he was initially an isolationist, the great artist Kawanabe Kyōsai (1832-89) had many dealings with Europeans such as Josiah Conder, and his work was much appreciated by British connoisseurs of Japanese art. This essay charts his life and tutelage of British artists in the Meiji period.
Author: Pedlar, Neil
James Alfred Ewing taught physics in Meiji Japan, and helped to inspire the country's first generation of modern physicists.
Author: Hoare, James Edward
Captain Francis Brinkley provides the subject of this essay, in particular his journalism and scholarship regarding Japan over his forty year career in the country.
Author: Ion, Hamish
Alexander Croft Shaw (1848-1902) and Edward Bickersteth (1850-97) strove to bring Japanese and British together on terms of equality in the religious sphere, and this essay details their contribution towards the establishment and growth of the Anglican church in Meiji Japan.
Author: Checkland, Olive
This essay considers the important contribution of Henry Dyer to the success of the nascent engineering profession in Japan and to the modernization of the Japanese education system.
Author: Nish, Ian
Though Aoki Shūzō was in many ways a Germanophile, there is a strong current running through his diplomatic career of concern with Britain, particularly with regard to the 'unequal' treaties.
Author: Gow, Ian
This portrait considers the significance of the second British Naval Mission, the Douglas Mission (1873-79) in laying the foundations of basic naval officer training in Meiji Japan and modernising their navy.
Author: Towle, Philip
This essay sketches an account of British military observers of the Russo-Japanese war to reflect on the wider relationship between Britain as a world empire trying to keep pace with other powers, and Japan as an emerging and potent force on the world scene.
Author: Tsunematsu, Sammy I.
This essay seeks to explore how Natsume Sōseki's (1867-1916) time in London influenced his literary works and world view, particularly with regard to the pre-Raphaelite movement.
Author: Kuramatsu Tadashi
This paper focuses on Admiral Viscount Saitō Makoto's (1858-1936) early career when Japan was emerging as a modern state in the Meiji and Taishō periods under the major influence of Britain.
Author: Madeley, Christopher
Taking Albert Penniall's diary from his two years in Japan this portrait sheds light on what it was like to work for a Japanese firm in the 1920s and provides a picture of expatriate life in Japan at the time.
Author: Itoh Keiko
Hisaakira Kanō's (1886-1963) family rode the tide of a rapidly changing Japan, being open to Western ways and modern thinking, but responding in ways that were rooted in his traditional samurai background.
Author: Best, Antony
This portrait considers how Arthur Edwardes emerges as a shadowy and perhaps naive figure on the edge of Anglo-Japanese relations in the build up to the Second World War.
Author: Neal, Edna Read
This portrait examines the six year internment of businessman Takayuki Eguchi in Pentonville prison during the Second World War.
Author: Pedlar, Neil
This portrait covers the writing and journalistic career of John Morris in the build up to the Second World War, and his contact with George Orwell during his time with the BBC.
Author: Cortazzi, Hugh
This essay provides an account of the life and career of Sir John Figgess (1909-97), businessman, intelligence officer, diplomat and art expert.
Author: Purvis, Phillida
This portrait charts the life of Kazuko Aso throughout the turbulent twentieth century, in particular her time in Britain where she developed a real love and affection for the country.
Author: Cortazzi, Hugh
This essay describes how Sir John Pilcher (1912-90), as British ambassador in Japan between 1967 and 1972, helped to revive Anglo-Japanese friendship after the Second World War and was long remembered with affection both in Japan and by his friends and colleagues.
Author: Cortazzi, Hugh
Ariyoshi Yoshiya (1901-82) was known as 'the grand old man of Japanese shipping'. This portrait focuses on his character and his love of both Britain and Japanese cultural traditions.
Author: Gallimore, Daniel
Along with Murakami Haruki, Ninagawa Yukio (1935) is perhaps the most famous of Japanese cultural figures in Britain. This portrait examines Ninagawa's international career as a director and in particular his staging of Shakespeare.
Author: Nish, Alison
This essay charts Britain's contribution to the development of rugby in Japan, particularly as it relates to sporting activities within educational institutions.