Biographical Portraits Volume II
Edited by:Nish, Ian
Publisher:Japan Library
First published:1997
This edition:1997
ISBN:1-873410-62-X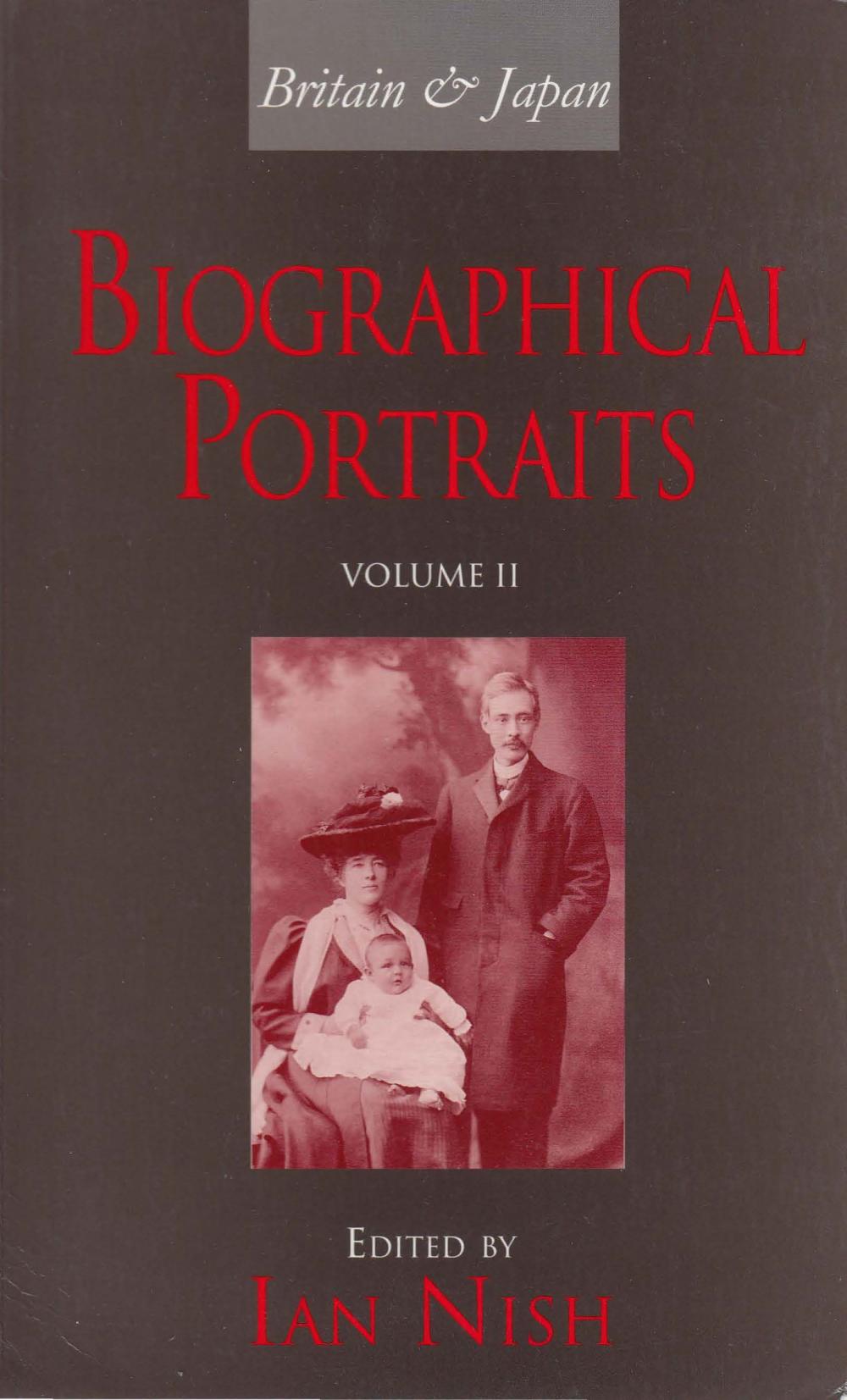 Description
This book forms part of a series recording the lives of men, women and institutions who have played a significant role in the development of UK-Japan relations. The current volume, which contains 24 'portraits', contributes further to the Japan Society's collection of individual memoirs. When read together these give a many-faceted picture of modern history, shedding light on controversial issues, illuminating past successes and failures, and providing a valuable point of reference for researchers and historians.
The highlights in this volume include 'Inoue Masaru - 'Father' of the Japanese Railways', 'Laurence Oliphant and Japan, 1858-88', 'Lafcadio Hearn, 1850-1904', 'Christmas Humphreys, 1901-83 and Japan', 'Ivan Morris, 1925-77', 'Takayuki Eguchi', and 'The Impact in Britain of Japan's Post-war Novelists'.
Author: Nish, Ian
Ian Nish's Preface to Biographical Portraits Volume II.
Author: Cortazzi, Hugh
A reassessment of the career of Sir Rutherford Alcock (1809-1897), the first British Minister to Japan from 1859-64.
Author: Yamamoto Yumiyo
Inoue Masaru (1843-1910) was one of the Choshu five - ambitious young men sent to England to study in 1863. This essay details the significant contribution of Inoue Masaru to the construction of Japanese railways, and the influence of his time and study in Britain on his civic career.
Author: Blacker, Carmen
Before his unfortunate infatuation with conman Thomas Lake Harris, Laurence Oliphant (1858-88) made two visits to Japan, each time leaving a fascinating account of his adventures. This essay details those colourful adventures, both personal and diplomatic.
Author: Morita Yoshihiko
Despite only being in Japan for a year and a half before his death, Edmund Morel (1841-71) made significant contributions to the modernization of Japan. This portrait details and discusses his engineering efforts in Japan.
Author: Checkland, Olive, and Norio, Tamaki
Alexander Allan Shand (1844-1930) taught Japanese bankers the elements of Western banking, auditing and accounting, and later smoothed the way for the Japanese government to borrow on the London money market.
Author: Cortazzi, Hugh
This essay is an attempt to describe the highlights and significance of British royal visits to Japan in the late 19th and early 20th centuries.
Author: Hoare, James Edward
This portrait provides a detailed account of the establishment and modus operandi of the Japan Consular Service (1859-1941) from the opening of Japan to the end of the Second World War.
Author: Nish, Ian
Dubbed a 'master of the various problems of our Far Eastern Ally', John Harrington Gubbins (1852-1929) enjoyed a remarkable and significant diplomatic career in the late 19th and early 20th centuries.
Author: Boyd, Julia
This essay considers the missionary and humanitarian career of Hannah Riddell (1855-1932) in late Meiji Japan.
Author: Murray, Paul
The outstanding Western interpreter of Meiji Japan, Lafcadio Hearn (1850-1904), provides the subject for this portrait; his time in America, Japan, and his relationships to his contemporaries.
Author: Mutsu, Ian
This portrait sketches a history of the Mutsu family, and in particular considers their close ties to Britain and the effect this had on Anglo-Japanese relations.
Author: Nakami Mari
This essay details the scholarly and journalistic efforts of J.W. Robertson-Scott (1866-1962), who wrote on Japanese foreign affairs, rural communities and agriculture during the First World War.
Author: Ion, Hamish
This portrait considers the missionary efforts and chaplaincy of Lionel Berners Cholmondeley (1887-1921) throughout Japan, and his close links with the private world of British diplomats in Tokyo as Chaplian for the British legation.
Author: Britton, Dorothy
Richard Ponsonby-Fane (1878-37) was a prodigious scholar and writer on Japan, and yet his name is absent from encyclopaedias or bibliographies. Here Dorothy Britton celebrates his personal legacy.
Author: Nish, Ian
This essay discusses the Crown Prince Hirohito's 1921 visit to Britain in its broader historical context.
Author: Cortazzi, Hugh
Even though John Batchelor (1855-1945) was not an expert in linguistics, ethnology or folklore, his contributions to the understanding of the Ainu people is nonetheless significant. This essay details his missionary career and a life devoted to the Ainu people.
Author: Nish, Ian
This portrait details the two years Yoshida Shigeru (1878-1941) and Mme Yoshida spent at the London embassy from 1936-38 - a difficult period in Anglo-Japanese relations.
Author: Best, Antony
Shigemitsu Mamoru (1887-1957) served as Ambassador to Britain from 1938-41, and his earlier career was also intertwined with the UK. This essay offers an assessment of Shigemitsu Mamoru's role in Japanese diplomacy as a hugely influential but nonetheless difficult to categorise figure.
Author: Oba, Sadao
This essay gives an overview to some of the prominent businessmen who spent significant parts of their careers in Britain.
Author: Blacker, Carmen
This portrait charts the dual interaction of Christmas Humphreys (1901-83) with Japan as a junior at the Military Tribunal for the Far East and as a devotee of Buddhism.
Author: Cortazzi, Hugh
Vere Redman (1901-1975) worked, throughout his career as a journalist, press attaché, and in the British Ministry of Information, to contribute to understanding between British and Japanese. This essay recounts his journalistic efforts as they relate to Anglo-Japanese relations.
Author: Gray, Robin
This essay recalls the circumstances in which the the Anglo-Japanese Commercial Treaty of 1962 was made and its implications for trade between the two countries.
Author: Hanaoka Sosuke
A Japanese account of the Anglo-Japanese Commercial Treaty.
Author: Giffard, Sydney
Taking several influential Japanese authors whose works have been translated into English, this portrait assesses their individual impact in Britain and an offers an overview of their qualities.