Biographical Portraits Volume I
Edited by:Nish, Ian
Publisher:Japan Library
First published:1994
This edition:1994
ISBN:1-873410-27-1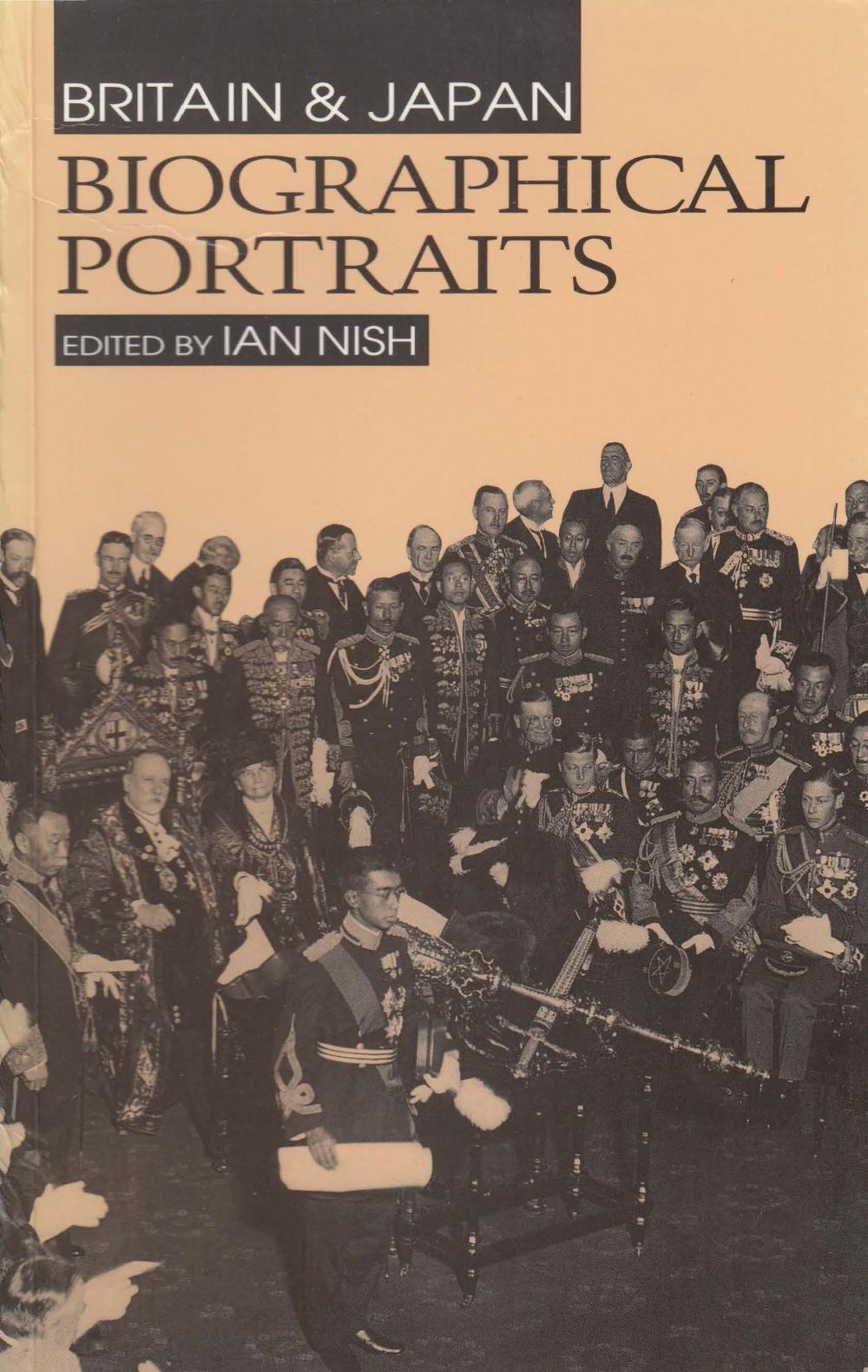 Description
This book forms part of a series recording the lives of men, women and institutions who have played a significant role in the development of UK-Japan relations. The current volume, which contains 22 'portraits', contributes further to the Japan Society's collection of individual memoirs. When read together these give a many-faceted picture of modern history, shedding light on controversial issues, illuminating past successes and failures, and providing a valuable point of reference for researchers and historians.
The highlights in this volume include 'Sir Harry Parkes, 1828-1885', 'British Missionaries in Meiji Japan', 'Minakata Kumagusu, 1867-1941: A Genius now Recognized', 'The Silent Admiral: Tōgō Heihachirō (1848-1934) and Britain', 'Otome and Frank Daniels', and 'Split Images: Occupied Japan through the Eyes of British Journalists and Authors'.
Author: Nish, Ian
Ian Nish's introduction to Biographical Portraits Volume I.
Author: Cortazzi, Hugh
This portrait reflects on the diplomatic career of Sir Harry Parkes (1828-1885) from 1865 to 1883, a period of unprecedented revolutionary change.
Author: Hoare, James Edward
In laying out an overview of British journalistic efforts and establishments in Meiji Japan, this portrait asks the question, 'What was the importance of the foreign press in Anglo-Japanese relations during the Meiji period?'.
Author: Ballhatchet, Helen
This essay provides an overview of the missionary efforts of British Christians in the Meiji period, as well as the challenges and nature of the 'mission field' itself.
Author: Checkland, Olive
In an effort to raise the status of Japan to that of a major world power, many engineers were sent from Meiji Japan to work and study in Britain. This portrait charts the challenges and opportunities afforded by this endeavour and the resultant exchange between Japan and Britain.
Author: Hunter, Janet
This essay considers the impact of Maejima Hisoka's (1835-1919) visit to Britain in the early 1870s, after which he founded Japan's postal service.
Author: Barr, Pat
This portrait details traveller and writer Isabella Bird's (1831-1904) deep fondness for Japan.
Author: Blacker, Carmen
This essay considers the remarkable scholarly career of the brilliant but eccentric polymath Minakata Kumagusu (1867-1941), an expert in natural history, folklore and classicism, as well as an assessment of the significance of his time in London to his work.
Author: Conte-Helm, Marie
This portrait considers the history of Britain's shipbuilding links with Japan through the firms Armstrong's and Vickers.
Author: Kiyoshi Ikeda
Tōgō Heihachirō's (1848-1934) naval career was one intimately interlinked with Britain, and this essay charts his illustrious role in international diplomacy and the admiralty of the Japanese Imperial Navy.
Author: Norio Tamaki
Taking Count Matsukata Masayoshi as a key figure, this portrait details Japanese efforts to attain both the Gold Standard and the respect of the London financial circles.
Author: Nish, Ian
This essay recounts the diplomatic career of Sir Claude MacDonald (1852-1915) in Japan in the early 20th century - a highpoint in Anglo-Japanese relations.
Author: Hotta-Lister, Ayako
This portrait assesses the success of the Japan-British Exhibition of 1910 from the perspective of the Japanese organizers.
Author: Nish, Ian
This essay considers the dual aspects of Frank Ashton-Gwatkin's (1889-1976) life: diplomat and author, and his affection for, and understanding of, Japan.
Author: Blacker, Carmen
Yoshio Markino (1869-1956), artist, philosopher, writer and anglophile, lived in London for most of his life.
Author: Cortazzi, Hugh
This essay considers the friendship between Bernard Leach and Yanagi Sōetsu (1889-1961), as well as their relationship to the Minegi movement.
Author: Nish, Ian
Matsudaira Tsuneo (1877-1949) was the longest serving ambassador to the Court of St James, and brought continuity to Anglo-Japanese relations at a time of political instability in Japan.
Author: Wilkinson, Jane
Scottish Doctor who lived in Japan treating Ainu communities. An amateur archaeologist and anthropologist who discovered evidence of the prehistoric people of Japan.
Author: Best, Antony
This essay charts the diplomatic career of Robert Craigie (1937-1941) in Japan, one of the most controversial subjects in the history of inter-war Anglo-Japanese relations.
Author: Pinnington, Adrian
R.H. Blythe (1898-1964) was not a scholar, but his writing had a profound influence upon the popular British understanding of Zen Buddhism, haiku and the Japanese monarchy.
Author: Dore, Ronald
This essay details the contribution of Frank Daniels (1900-83) towards teaching Japanese during the Second World War, and also his role in establishing a major centre for Japanese Studies at SOAS.
Author: Lowe, Peter
Sir Alvary Gascgoine (1946-1951) headed the British liaison mission in Tokyo from 1946 to '51, and was responsible for establishing postive relations with General Douglas MacArthur.
Author: Buckley, Roger
This essay considers the careers of journalists and writers in post-war occupied Japan, and the impact of their writing upon British perceptions of Japan.