Biographical Portraits Volume IX
Edited by:Cortazzi, Hugh
Publisher:Renaissance Books
First published:2015
This edition:2015
ISBN:978-1-898823-16-2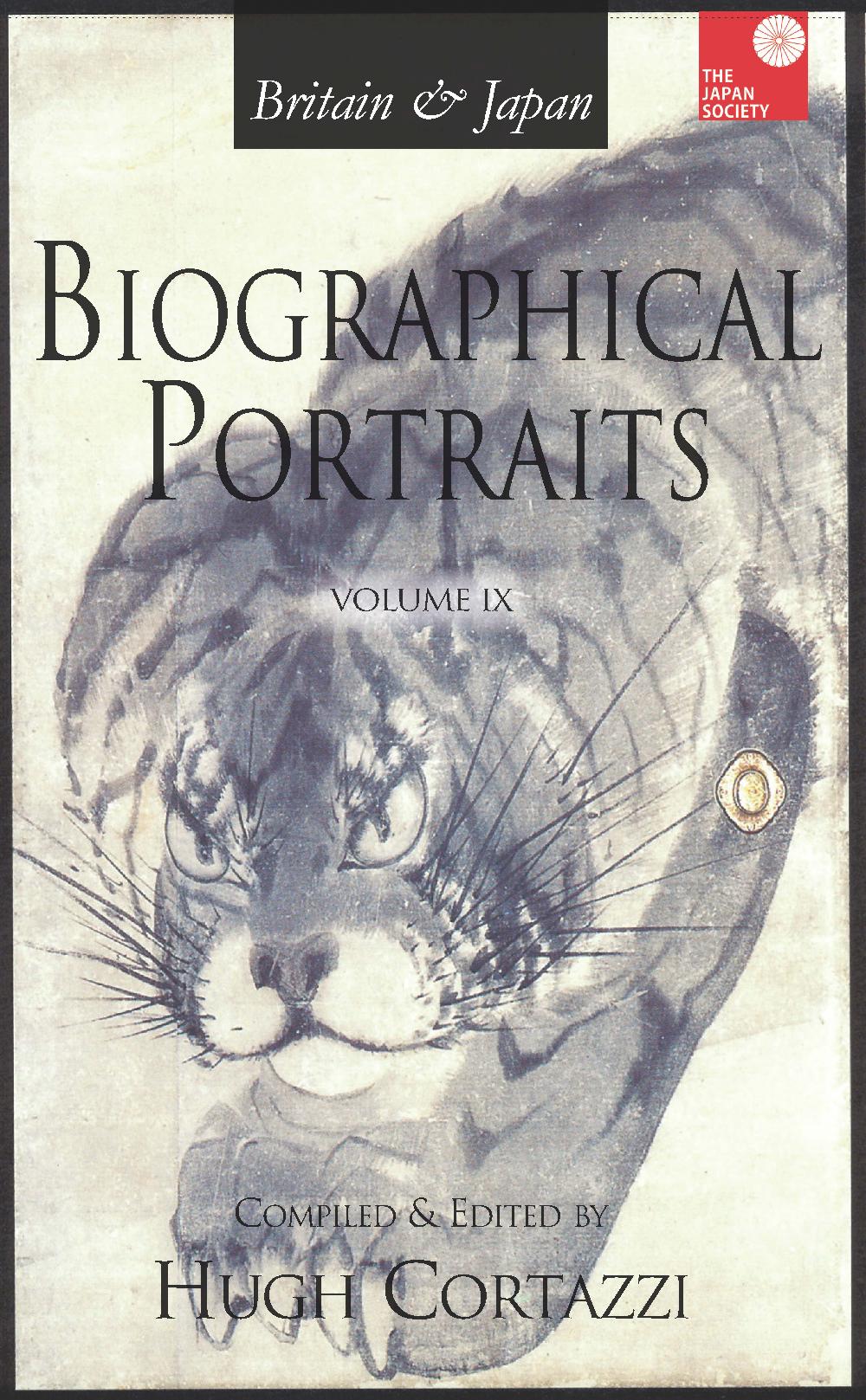 Description
This book forms part of a series recording the lives of men, women and institutions who have played a significant role in the development of UK-Japan relations. The current volume, which contains 57 'portraits', contributes further to the Japan Society's collection of individual memoirs. When read together these give a many-faceted picture of modern history, shedding light on controversial issues, illuminating past successes and failures, and providing a valuable point of reference for researchers and historians.
Structured thematically in four parts – Japan in Britain; Britain in Japan; Scholars and Writers; and Politicians and Officials– the highlights in this volume include 'Japan and Ye Sette of Odd Volumes and London's Thirteen Club in the 1890s', 'Cricket in Late Edo and Meiji Japan', Kazuo Kikuta (1908-1973), 'Japanese Impresario and Lover of Charles Dickens: A Personal Memoir', 'Sessue Hayakawa (1886-1973): International Film Star', 'Grace James (1882-1965) and Mrs. T.H. (Kate) James (1845-1928): Writers of Children's Stories', 'Shirasu Jirō (1902-1985): A Complicated and Enigmatic Personality', and 'Major C.A.L. Yate VC (1872-1914): A Gallant British Officer and Admirer of Japan'.
Hugh Cortazzi's Introduction to Biographical Portraits Volume IX.
Author: Cortazzi, Hugh

Author: Maclean, Nicolas
The Great Japan Exhibition (1981-82) opened many eyes to some of the great achievements of Japanese art and culture. This essay details what at the time was the most comprehensive exhibition ever devoted to its subject, even in Japan itself.
Author: Cobb, David
This portrait charts the varied history of the acceptance and adoption of the Japanese poetic form Haiku into British culture.
Author: Hardman, Graham
This biographical portrait describes the development of the Japanese Garden Society in the UK, and how it has increasingly sought to use gardens as a way of fostering and developing relationships between the two countries, introducing the British public to Japanese culture.
Author: Budden, Paul
This essay charts the growth and development of Kendō in Britain as a sporting and cultural practice, from 1862 to the present day.
Author: Kato Setsuo
One of the oldest Japanese institutions in London, the Nippon club traces it origins back to 1881 when groups of Japanese gathered monthly in the Strand. This portrait details its establishment and development.
Author: Cortazzi, Hugh
This portrait provides an account of the interest of Ye Sette of Odd Volumes' interest in and promotion of things Japanese within their society.
Author: Thorne, Ben
The British Week held in Tokyo from 26 September 1969 was a successful example of official efforts to promote British exports to the growing Japanese market in the 1960s. This portrait details and assesses the impact of the event.
Author: Pilcher, John
This essay contains a perceptive amd amusing account of EXPO '70 at Osaka, as well as Britain's involvement in the proceedings.
Author: Dimond, Paul
This portrait is of the generations of individuals who built the structure for promoting British business in Japan in the early 1970s.
Author: Jack, Stuart
This essay charts the way in which discriminatory taxes on Scotch Whisky were tackled and overcome during the 1980s.
Author: Ion, Hamish
British mountaineers had a significant influence on the development of climbing as a leisure sport in Japan and on Japanese climbers associated with the Japanese Alpine Club. This essay assesses that influence and the growth of mountaineering in Japan.
Author: Galbraith, Mike
In late Edo and throughout the Meiji period, British citizens in Japan gathered to play cricket. This essay provides an account of the matches played and personnel involved, as well as the wider attitudes towards the sport amongst Japanese.
Author: Galbraith, Mike
This essay charts the playing of 'Rugby Football' in Japan, and the clubs established to manage the sport in the country.
Author: Chakmakjian, Pauline
This essay considers the history of freemasonry in Japan - its introduction and issues of compatibility with Japanese religious beliefs.
Author: Ion, Hamish
Christ Church was the first Protestant church in Yokohama, opening its doors in 1863. This portrait details the establishment of the church and the life of its first encumbent, Michael Buckworth Bailey.
Author: Ion, Hamish
The aim of the British Bible Societies was to encourage the circulation of the Bible in as many languages as possible. This essay details the translation efforts in Japan of both the New and Old Testaments in the late 19th century.
Author: Talks, Audrey Sansbury
This portrait considers Kenneth Sansbury's (1905-1993) time as a missionary in Japan, which coincided with the beginning of the Pacific War.
Author: Imamura Akira
Alongside his contribution to the modernisation of music performance and education in Japan, John William Fenton is known as a composer of the first Japanese national anthem, Kimigayo. This portrait considers his career as a bandmaster in the British and then Japanese armed forces.
Author: Imamura Akira
Following the introduction of Western music to Japan in the nineteenth century, Meiji leaders struggled to incorporate it into the modernised education system. This essay details the way in which British vocal music provided a solution to their difficulties.
Author: Albery, Nobuko
This portrait provides an insight into the role of writer, director and impressario Kazuo Kikuta (1908-1973) in the Japanese commercial theatre industry, to which he introduced numerous West End and Broadway shows.
Author: Daniels, Gordon
Kawakita Nagamasa (1903-1981) and his wife Kawakita Kashiko (1908-1993) drove Anglo-Japanese cinematic exchange in the mid to late 20th century, ensuring that high-quality British and Japanese films found new audiences.
Author: Norimasa Morita
Sessue Hayakawa (1886-1973) was the first Japanese native to meet with considerable success in the American and European film industries.
Author: Curtin, Sean
In 1613 James I gave a telescope to Japan. To mark the 400th anniversary of Anglo-Japanese relations, a replica was presented as a gift to the Japanese people from Japan400.
Author: Huberman, Toni
As a watercolourist of flowers and gardens, Ella Du Cane (1874-1943) helped popularize the Japanese garden amongst westerners who had never been to Japan. This essay sketches her life and impact on Anglo-Japanese relations.
Author: Watanabe Toshio
This portrait details how painter and garden designer Alfred William Parsons (1847-1920) played a catalytic role in the growth of watercolour painting in Japan in the late nineteenth and early twentieth centuries, considering the development of notions such as 'nature' and 'landscape'.
Author: Snell, William
Within writer R.V.C. Bodley's (1892-1970) long and varied life lies a year in which his journalistic career took him to Japan. This essay details his writings relating to the country.
Author: Emmott, Bill, and Adrian Woolridge
The essay details the respect and attention Norman Macrae (1921-2010) was given by Japanese economists and politicians for his remarkable insights into the Japanese economy as deputy editor of the Economist, even though he spoke no Japanese and had never lived in Japan.
Author: Daniels, Gordon
In the field of military nursing, by the first years of the twentieth century Japan had overtaken Britain. This essay suggests that the career of pioneer nurse Yamamoto Yao (1875-1955) illustrates Japanese achievements, and details the significant role of the Japanese Red Cross in Anglo-Japanese relations during the First World War.
Author: Tomida Hiroko
A founder of domestic science in Japan and an advocate of women's education, Ōe Sumi (1875-1948) spent much time studying the subject in Britain. This portrait assesses the impact of Britain on her career.
Author: Townsend, Susan C.
This essay details colonial studies scholar Yanaihara Tadao's (1893-1961) impressions during his 1920-21 tour of Britain, and examines the ways in which his study abroad and his Christian beliefs influenced his thought.
Author: Saito Yoshifumi
Grammarist Ichikawa Sanki (1886-1970) made a significant contribution to the development of English philology in Japan. This essay examines the interaction between Britain and Sanki throughout his scholarly career.
Author: Hunter, Janet
Michio Morishima (1923-2004) was one of Japan's few internationally renowned economists in the second half of the twentieth century. This portrait details his life and career both in and oustide of Japan, which he left due to dissatisfaction with the academic establishment.
Author: Hirata Yoko
This essay charts the literary and translation efforts of Honma Hisao (1886-1981), particularly in regard to Oscar Wilde; how he looked outward at English literature, inward at Meiji era literature and then combined the two in the comparative study of world literature.
Author: Norimasa Morita
Following a period of study in Britain and Germany, Shimamura Hōgetsu (1871-1918) pioneered the introduction of Western drama and theatre (shingeki) to Japan. This essay details his srtuggles and successes.
Author: Robinson, Eleanor
This portrait considers historian Mutō Chōzō's (1881-1942) life and his pioneering work A Brief History of Anglo-Japanese Relations, the first of such works.
Author: Oba Sadao, and Anne Kaneko
Yanada Senji (1906-1972) played a key role in the wartime training of translators and interrogators at SOAS. This portait details his academic career and the deep personal struggles associated with providing key assistance to the war effort against his homeland.
Author: Kikuchi Yoshiyuki
Sakura Jōji (1858-1939) studied physics and chemistry at University College London, and became one of Japan's leading scientists. He also pioneered the study in English of Nō drama.
Author: Kikuchi Yoshiyuki
Edward Divers (1837-1912) and Robert William Atkinson (1850-1929) were influential in the development of the field of chemistry in Meiji Japan. This essay details their respective contributions, along with their thoughts on Japan.
Author: Snowden, Paul
Edward Vivian Getby's (1892-1955) was one of the central figures in the establishment of the field of English as a foreign language. This essay details the influence of Japan on his career, and looks at his contributions in relation to those of A.S. Hornby, with whom he worked on the Oxford Advanced Learner's Dictionary.
Author: Nish, Ian
Dr. Wolf Mendl (1926-1999) was one of a small number of British academics focussed upon the history of regional conflict in East Asia, with a particular interest in China-Japan relations during the Cold War. This portrait looks at the impact of his time in Japan on his personal life and scholarly career.
Author: Various
John Sargent continues to be regarded as the foremost British geographer of Japan. This essay details his career and contributions to the field.
Author: Koyama Noboru
Mrs T.H. (Kate) James (1845-1928) and Grace James (1882-1965) contributed significantly to the popularisation of Japanese fairy stories in the English language and to the British understanding of Japanese culture. This essay details their lives and interactions with the fairy tales and folklore of Japan.
Author: Nish, Ian
Although in his early years Admiral Katō Hiroharu (1870-1939) admired Britain, in his later career he understandably placed Japan's naval interests ahead of any residual affection for the country. This essay considers the early part of his career, during which he played a significant role in Anglo-Japanese naval cooperation.
Author: Seki Eiji, and Hugh Cortazzi
Fukuda Takeo (1905-1995) was Prime Minister for two years from 1976 to 1978. He was an anglophile, having spent three years of his life in Britain, and one of the more pro-British post war Prime Ministers. This portrait lays out his life, political career and time in Britain.
Author: Tokumoto Eiichiro
This portrait charts the life and influence of the complicated and enigmatic Shirasu Jirō (1902-1985), described here as 'a symbol of his time' having lived through some of the best and worst episodes of Anglo-Japanese relations. During his life, he was a student at Cambridge, journalist, businessman, farmer and a crucial link between the Japanese government and the office of the Supreme Commander Allied Powers.
Author: Morton, Robert
Interactions with Japan only played a very short part in Sir Henry Keppel's (1809-1904) naval career, but the few years of his involvement saw the collapse of the bakufu and the Meiji Restoration. This essay details his short, but significant, contribution to Anglo-Japanese relations, particularly with regard to the British response to the Meiji Restoration.
Author: Shaigiya-Abdelsamad, Yahya
Major C.A.L. Yate VC (1872-1914) had extensive dealings with Japan, and absorbed much of its culture and in particular the 'warrior spirit' of the country. This portrait traces his time in Japan, and its influence as a possible factor in his suicide to evade recapture during the First World War.
Author: Roberts, Christopher
Sir Nicholas John Hannen (1842-1900) was the first professionally British qualified judge based full-time in Japan and was involved in many different legal proceedings from 1871 until his death in 1900. This essay sketches his career in Japan, during which he was tasked with identifying and addressing deficiencies in the Yokohama Court arrangements.
Author: Roberts, Christopher
This essay details the career of Robert Anderson Mowat (1843-1925) in his role as judge of the British Court for Japan between 1891 and 1897.
Author: Otte, Thomas G.
Despite having little interest in, or ever visiting Japan, diplomat Francis Bertie, in his role as Assistant Under-secretary at the Foreign Office, was instrumental in preparing the Anglo-Japanese Alliance. This portrait assesses the significance of this contribution as it established the broad parameters of British policy in East Asia for the next two decades.
Author: Cobbing, Andrew
Lord Granville's (1815-1891) career in the Foreign Office brough him into close contact with Japan, although he never visited the country himself. He was in office during some key episodes in Japan's attempts to revise the Unequal, or Ansei, Treaties.
Author: Nish, Ian
As future Prime Minister Arthur Balfour (1848-1930) was emerging as a prominant politician, Japan was coming on to the international map. Balfour's career came to reflect this change in Japan's stature, as the country went from low to high priority in the eyes of the British Foreign Office.
Author: Best, Antony
This portrait offers an analysis of Sir John Simon's (1873-1954) flawed role in the foreign office and in Anglo-Japanese relations as a whole as they pertained to the Manchurian crisis.
Author: Best, Antony
This essay seeks to answer the question of Edward Wood's (1881-1959) attitudes towards Japan in his role as foreign secretary from 1938 to 1941, when relations between Britain and Japan were becoming increasingly frayed.
Author: Best, Antony
This portrait seeks to assess Foreign Secretary Anthony Eden's (1897-1977) attitude towards Britain's former ally and contemporary adversary, Japan, as well as detail his efforts to rebuild relations in the wake of the bitter legacy of the Pacific War.
Author: Buckley, Roger
This essay details Ernest Bevin's (1881-1951) role in Britain's post war attitudes and policies towards occupied Japan at the start of the Cold War, as Britain strived to remain a global power and public oppinion of Japan remained poor.
Author: Cortazzi, Hugh
Margaret Thatcher (1925-2013) played a significant role in promoting Japanese manufacturing investment in Britain and opening up the Japanese markets, and ensured that Britain was no longer seen as suffering from what the Japanese called eikokubyō (the English disease).